When ordering uniforms, check the appropriate charts below to ensure optimum fit. You will most likely NOT wear the same size from all manufacturers. Get out the measuring tape!
Sun Uniforms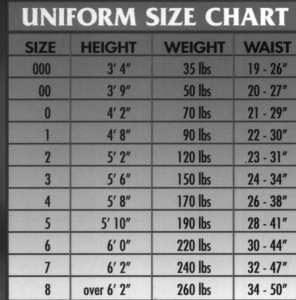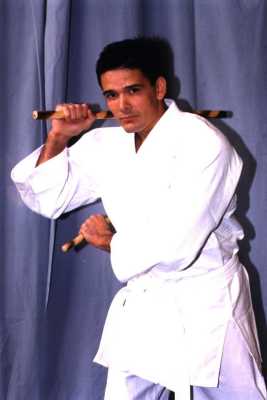 These SUN uniforms are some of the best around for everyday wear. We've been dealing with these uniforms (as both students and store owners) for about 20 years. We've found them to be durable, they keep their shape well (no ironing if you follow directions on the midweights!), and are an excellent value, at a reasonable price for all of our customers. We sell these midweight uniforms at the same price as most lightweights. So why settle for a cheap, thin, see-thru lightweight uniform that will fall apart when you can have one of these?

TRY 'EM!! We stock both black and white uniforms in the store! (White uniforms come with a white belt, black uniforms come without a belt), from size 000 to 8.

We're working to get all the sizes/colors online, you can see some of them and buy online in our new SQUARE MARKET!!
--------------------------------
Tokaido Uniforms
SIZE

Height

Weight

2

4'11"

100 lbs

2 1/2

5'

110 lbs

3

5'2"

120 lbs

3 1/2

5'4"

140 lbs

4

5'6"

150 lbs

4 1/2

5'8"

160 lbs

5

5'10"

170 lbs

5 1/2

5'11"

180 lbs

6

6'

190 lbs

6 1/2

6'2"

200 lbs

7
6'4"
210 lbs

7 1/2

6'7"

245 lbs
The Tokaido uniforms from Japan are some of the best tournament/instructor uniforms in the world, and my personal favorite. When new, they have a blue-ish tint to them, and are somewhat stiff. With wear and care, they will soften up and are brilliant white. They are available in a "tournament cut" for those hardcore martial artists who don't want to have their sleeves and pant legs get in the way of their techniques.
The interesting thing about the Tokaido uniform is that it has been branded as an "instructor-only grade" by some unscrupulous schools out there. The students are led to believe that they must have some kind of instructor credential in order to buy this uniform. (Don't be fooled!) I have had calls from students and their parents from hundreds of miles away, whose instructor was selling the uniform in the $400-500 range back in the early 2000s when the retail cost was around $195, and thought my price was either a joke or I was selling a "knock-off". I can assure you that neither is the case!
When I bought my first Tokaido in 1995 (12 oz. heavyweight); there was a shortage of the cotton used in Japan for this uniform, and I had to wait 3 months to get it, but I can tell you that it was worth it! And at a current retail price of around $335, it's a great buy. These uniforms "snap" really nicely when performing your techniques, so if you're ready to buy that great testing or tournament uniform, consider Tokaido.
WE CAN SPECIAL-ORDER YOUR TOKAIDO TODAY!
Give us a call at 888-232-6577
And remember...........we will work to get you the best fit. If it comes in and it doesn't fit, we will get the right one for you. We cover shipping costs back and forth, YOU don't, which you will do for most online stores.