"Handwriting
Analysis 101"
is an introductory 4-week course Theresa taught at Indiana State University..
Check out the syllabus.
Theresa grew up in Caracas, Venezuela and traveled extensively throughout Central and South America. Her exceptional bilingual abilities have provided her with many experiences as teacher, interpreter, translator, job developer, and cultural consultant for clients doing business with Hispanic populations. Theresa is versed in varying aspects of entrepreneurship, social media marketing, martial arts, fitness, self-defense, and handwriting analysis.

Theresa Ortega has conducted speaking services for a variety of corporate and private entities such as H & R Block, Catholic Charities Food Bank, Columbia House, Indiana State University, local and Federal courts, the PanAmerican Games as well as numerous regional projects, and handwriting events for conferences and conventions including the Anthem Blue Cross, Peri-Operative Nurses, International Registered Pharmacists, SHRM Annual Convention, Illinois Credit Union League, USA Martial Arts Hall of Fame, Maine Credit Union League, The Westin Indianapolis and others.

Theresa is a First Degree Black Belt in Taekwondo, has served as an instructor for toddlers to adults, designed methods that increased ProShop sales dramatically, and has successfully operated her own martial arts business for more than 21 years. Theresa writes a newsletter about martial arts, boxing and fitness, is often quoted for her martial arts knowledge and she loves to promote martial arts events.

Her customer service and niche marketing expertise were featured in "Retail Focus", the National Sporting Goods Association's member magazine. The National Main Street "Shop Main Street" initiative elected her website as a "unique and interesting shop that makes Main Streets great" and was featured on the shopmainstreet.org holiday shopping website in 2006. In September 2007, Kamikaze Karate was featured in Entrepreneur Magazine for Theresa's innovative use of cultural holidays such as Confucius' Birthday and Chinese New Year in her retail store. Read her interview here.

She has served as consultant for other martial arts businesses to help maximize their unique services and products, and has many interesting topics available for workshops and presentations for private, civic, and corporate groups.

Her interest in the practical applications of handwriting analysis led her to study this topic. Theresa has made presentations to thousands of people in business groups, trade associations, university business fraternities, college crowds, and has been a frequent guest on radio and TV shows analyzing handwriting "live".

In June of 2007, Theresa was recognized as a Certified Handwriting Analyst by Handwriting University in Dallas, Texas after completing written and oral certification testing.

Theresa was inducted into the USA Martial Arts Hall of Fame in April 2009, as "Female Taekwondo Stylist of the Year" and "Business Leader of the Year".

In October 2009 at the annual Pacific Island Gathering event in Chicago, Grandmaster Jerson "Nene" Tortal of the Philippines presented Theresa with a certificate as "Honorary Guru" for her "selfless work and talent shown to preserve the Tortal Family System of Dekiti Tirsia Siridas Arnis of Mono".

Theresa will be combining her love for martial arts, psychology and handwriting analysis in a new website soon showcasing protection of the body (martial arts), mind (psychology) and protection from poor personnel decisions (handwriting analysis).

In June 2010, Theresa was the first non-fire or police officer ever certified by Public Safety Language Training to teach Tactical Spanish to Law Enforcement. You can read about the officers and dispatchers taking her course. Theresa's class gained attention in the IFLTA (Indiana Foreign Language Teachers' Association) newsletter.

Small Business Saturday was the first year for an event to promote shopping at small, locally-owned businesses, an effort spearheaded by American Express. Theresa was the first and only merchant in downtown Terre Haute to participate in that inaugural year of 2010. Check out Theresa's interview about it on NBC2.

In February 2012, Indiana State University Magazine did an extensive article about Theresa's work with handwriting analysis, language instruction, and her martial arts store.

In April 2012, Theresa was once again an Inductee into the USA Martial Arts Hall of Fame, this time as the "Most Supportive Martial Artist of the Year" for all of her work promoting the martial arts.

In December 2012, Theresa presented a workshop in conjunction with Dr. Thomas Rea, a Licensed Clinical Psychologist and Director of Psychological Services for Terre Haute Regional Hospital, for the "Dine With A Doc" event. Theresa took participants through an interactive exercise in analyzing their own handwriting, particularly helpful at the time of year when "winter blues" and holidays can make everything seem overwhelming. She taught the participants how to spot signs that they or a friend may need some help. View/print the full program press release or the event flier.

Check out Theresa's interview with Coach Jeanna on BlogTalkRadio. Jeanna's listeners ask some great questions about handwriting analysis.

In April 2013, Theresa was interviewed for a national article about cursive handwriting and provided the video sidebar for the piece.

In June 2013, Theresa was certified as Indiana's first Certified Cursive Coach after training with Iris Hatfield, designer of the New American Cursive program.

In March 2014, Theresa was honored to be asked to take part in the TED Conference 2014 Simulcast. Members of the American Handwriting Analysis Foundation staffed the main site in Vancouver, Canada and the simulcast site at Target Commercial Interiors HQ in Minneapolis, MN, in support of Target's TED Conference theme, "Write The Next Chapter". Theresa and another analyst analyzed 725 samples from conference attendees during the weeklong event.

Theresa has spent a lot of time on TV talking about handwriting, analyzing handwriting, and promoting handwriting events such as National Handwriting Day on NBC-2's Good Day Live 2017 (video).

In October 2016, Theresa was invited by SOMEGRAF (Mexican Society for Scientific Graphology) to speak to an international gathering of psychologists, educators, therapists and forensic handwriting analysts about the Campaign for CursiveŽ mounted by the American Handwriting Analysis Foundation and its supporters. Theresa presented two lectures; the first one about the Campaign for CursiveŽ itself, how it was formed, and how Mexico and other countries could mount their own campaign to return cursive writing instruction to their public schools; the second presentation was about AHAF's white paper "The Truth About Cursive Handwriting: Why It Matters in a Digital Age" and the compiled research included in the document, most of which has taken place in the U.S. and pointing to the importance of writing by hand. It has now been translated by many analysts around the world and is available in 7 languages.

Theresa continues to study with the American Handwriting Analysis Foundation, to hone her skills and learn more about this complex and fascinating topic. She gets a lot of questions about handwriting, cursive, and handwriting analysis on Quora, and one of her most popular topics is the question of why people tend to have different styles of handwriting, now with over 4,500 views!

Theresa always entertains audiences with her energetic and unique presentation style.
You can contact her via email at tortega@kamikazekarate.com or handwritingsensei@gmail.com

You can also connect with her Handwriting Sensei channels on Twitter, Instagram and Facebook.


Theresa Ortega
Professional Speaker,
Certified Handwriting Analyst,
Martial Arts Black Belt,
Entrepreneur & Educator with Latin Flair

Theresa can be reached for workshop learning opportunities or consulting
at (888) 232-6577
or contact tortega@kamikazekarate.com

*****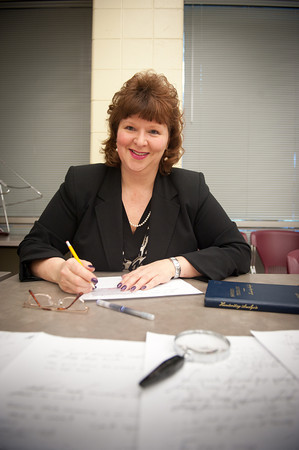 Theresa's appearance on NBC2's GOOD DAY LIVE with Julie Henricks in 2017!
***
Check out Theresa's video for a national article about cursive writing instruction in the schools.
April 2013
*****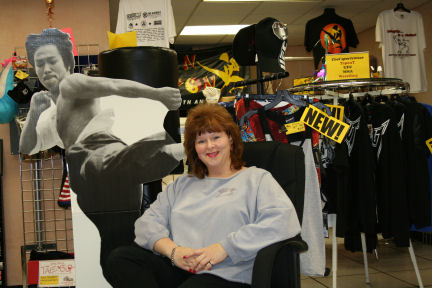 Here I am working in my store....Bruce always keeps me company! (But I wish he'd stop kicking my head.....)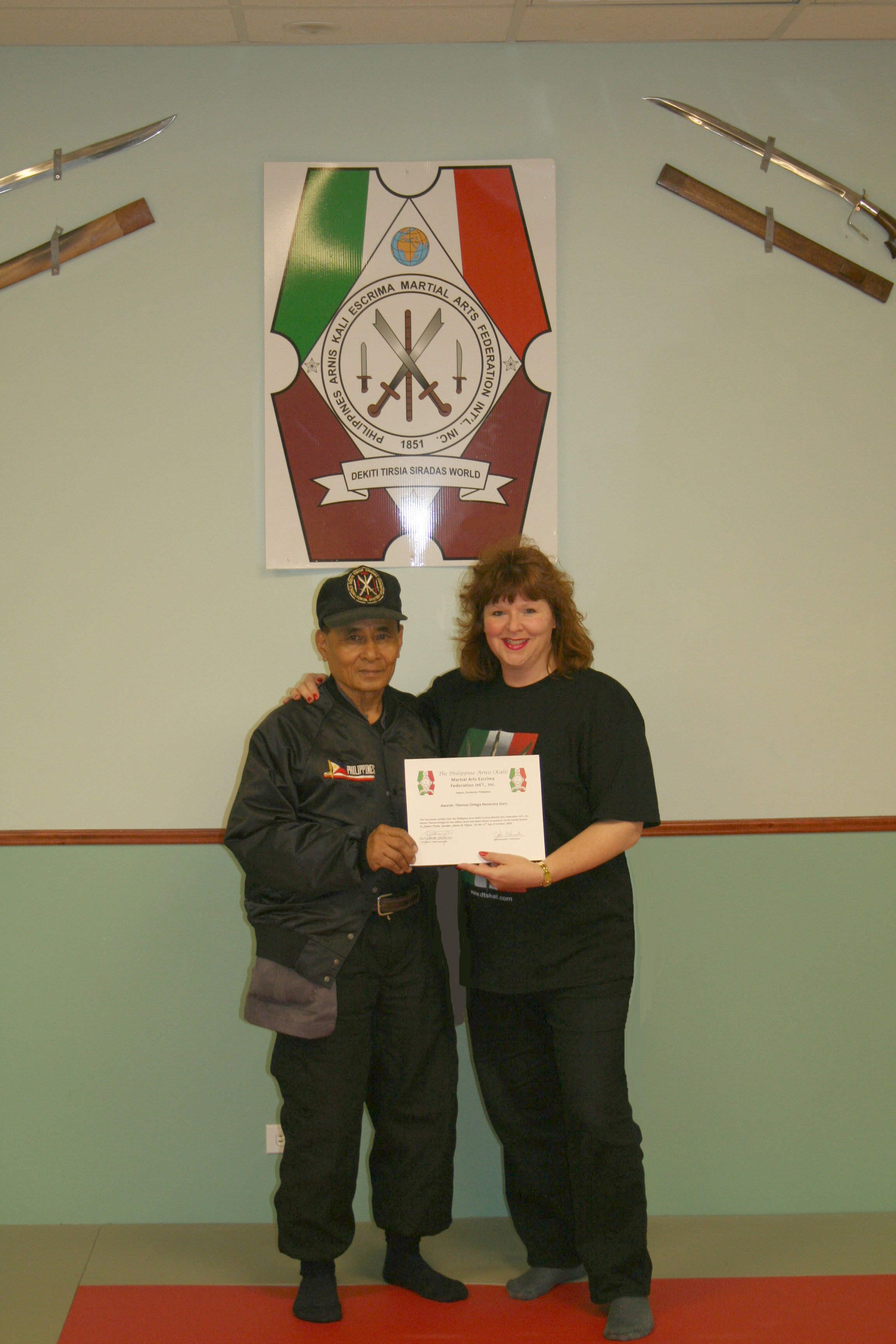 Here I am at the annual "PIG" (Pacific Island Gathering) event in Chicago, with GM Jerson "Nene" Tortal of the Philippines.
October 11, 2009